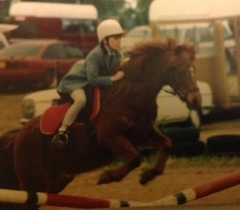 Ryan Wood, a native of Australia, began riding and competing at just eight years of age. Over the years, Ryan's love of horses quickly grew, and before long he purchased his first horse, a Thoroughbred/Stock horse through a local newspaper for just $1,500 AUD. Together, Ryan and this very special horse, known as Countdown, would develop from Pony Club, through the levels of the eventing world, and ultimately competed at the 4* level for the first time when both were nineteen years old.
Following his success with Countdown, Ryan also competed at eventing's top level with several other horses he brought up through the levels in Australia. Despite being very young, he achieved top placings at numerous events, among them the Adelaide CCI4*, Melbourne CCI3*, Sydney CCI3* and Warwick CIC-W3*.
After completing school in Australia, Ryan furthered his riding knowledge, spending a year working under the instruction of Eventing champion Guy Wallace while also gaining valuable experience starting youngsters and galloping racehorses.  Always eager to grow and develop as a rider, Ryan made a number of trips during his youth to train and ride in Germany with Olympic Dressage trainer Norbert Van Laak, and with champion Show Jumpers Ludger Beerbaum and Ernst Hofschroer.
In 2008, after substantial success in his home country, Ryan moved his business, Woodstock Eventing, to the United States. Since that time, Ryan has had many notable achievements on a variety of horses, quickly proving he could ride alongside some of the top horses and riders in the United States. Upon moving in 2008, Ryan worked for Eventing legend Bruce Davidson before making a home for himself at fellow Australian native Phillip Dutton's True Prospect Farm in Unionville, PA. After four years working for Phillip, Ryan now runs his own business out of True Prospect Farm and continues to train with Phillip.
In addition to Ryan's passion for riding, he enjoys seeing others succeed through coaching lessons and clinics. He takes great pride in developing horses and being a part of their journey, knowing that each horse has something unique to teach us.
Career Highlights
4th & 5th Place, Virginia CIC2* (2017)
24th Place, Virginia CIC1* (2017)
7th Place, Fair Hill International CCI3* (2017)
1st Place, U.S. Open $50,000 Arena Eventing Competition (2017)
Top 15, Plantation Field CIC3* (2017)
3rd Place, Plantation Field CIC1* (2017)
11th Place, Pedigree Bromont CCI3* (2017)
8th Place, $50,000 Devon Arena Eventing (2017)
Completed, Rolex Kentucky CCI4* (2017)
$100,000 Land Rover Wellington Eventing Showcase, Two Horses in Top 20 (2017)
FEI World Eventing Athlete Rankings, Top 50 (2016)
Fair Hill International CCI3*, Top 20 (2016)
Maryland H.T. at Loch Moy Intermediate, 2nd Place (2016)
Plantation Field International CIC3*, Two in Top 20 (2016)
Plantation Field International Advanced, 2nd Place (2016)
Plantation Field International CIC1*, 3rd Place (2016)
American Eventing Championships Advanced, Champion and Reserve Champion (2016)
Fair Hill International Intermediate, Three in Top 10 (2016)
Millbrook Intermediate, 2nd and 7th Place (2016)
Jaguar Land Rover Bromont CCI3*, 1st Place (2016)
Jaguar Land Rover Bromont CIC3*, 1st Place (2016)
Virginia Intermediate, Three in Top 10 (2016)
Virginia CIC1*, Top 10 (2016)
Jersey Fresh International CCI3*, 1st Place (2016)
Jersey Fresh International CIC2*, 4th Place (2016)
Two Completions at Rolex Kentucky CCI4* (2016)
Fair Hill International Advanced, 1st Place (2016)
Fair Hill International CIC3*, 2nd Place (2016)
The Fork Advanced, 3rd Place and Two in Top 15 (2016)
The Fork CIC2*, Two in Top 10 (2016)
Carolina International Advanced, Three in Top 15 (2016)
Red Hills International Advanced, Three in Top 10 (2016)
Red Hills International Intermediate, 3rd Place (2016)
Pine Top Advanced, 4th and 6th Place (2016)
Pine Top Intermediate, Five in Top 10 (2016)
Named to the Equestrian Australia High Performance Generation Next List (2016)
USEA Overall 5th Ranked Rider of the Year (2015)
USEA Adult Intermediate Rider of the Year (2015)
USEA Intermediate Horse of the Year; Alcatraz 3rd, Woodstock Bennett 4th, Powell 7th (2015)
USEA Adult Preliminary Rider of the Year (2015)
USEA Preliminary Horse of the Year; Ruby & Cobra 9th (2015)
Fair Hill International CCI3*, Three in the Top 15 (2015)
Plantation Field International CIC3*, Two in the Top 15 (2015)
Named to the Australian Eventing Squad (2015)
Richland Park CCI2*, 3rd, 4th and 5th Place (2015)
Bromont Canada CCI3*, Two in the Top 20 (2015)
Bromont Canada CCI2*, 7th Place (2015)
Virginia Horse Trials CIC2*, 7th and 10th (2015)
Jersy Fresh International CIC3*, 2nd Place (2015)
Jersey Fresh International CCI2*, 3rd Place (2015)
Fair Hill International Advanced, 1st, 2nd and 5th (2015)
Fair Hill International CIC2*, 2nd and 3rd Place (2015)
Carolina International CIC2*, 2nd Place (2015)
Red Hills International CIC2*, 3rd Place (2015)
2014 11th Ranked Rider of the Year
2014 6th Ranked Intermediate Rider of the Year
2014 2nd Ranked Preliminary Rider of the Year
Virginia Horse Trials CIC2*, 1st and 3rd Place (2014)
Virginia Horse Trials CCI1*, 1st Place (2014)
Fair Hill International CCI2*, 9th and 11th Place (2014)
Morven Park Advanced, 10th Place (2014)
Plantation Field Advanced, 7th Place (2014)
Plantation Field CIC1*, 2nd Place (2014)
Plantation Field CIC2*, Top 20 (2014)
Richland Park CIC2*, 8th Place (2014)
Named to the Australian long list for the 2016 Olympic Games
Bromont CCI1*, 2nd and 3rd Place (2014)
Bromont CCI2*, 5th Place (2014)
Carolina International CIC2*, 5th Place (2014)
2013 USEA Preliminary Rider of the Year
Fair Hill International CCI2*, 2nd Place (2013)
Virginia CCI*, 1st Place (2013)
Plantation Field CIC1*, 2nd Place (2013)
Bromont CCI2*, 2nd Place (2008)
Area II Intermediate Championships, 1st Place (2008)
Adelaide International CCI4*, 8th Place (2006)
Warwick World Cup CIC3*, 9th Place (2006)
Melbourne International CCI3*, 5th Place (2006)
Melbourne International CIC3*, 7th Place (2005)
Berrima CIC3*, 2nd Place (2005)
Sydney CIC2*, 1st Place (2004)